Print page
Maxforce® Quantum
Maxforce® Quantum
Print page
Product Overview
Maxforce® Quantum is a ready to use insecticidal bait for the rapid control of a variety of ants.
Product Description
The Maxforce® Quantum formulation is an odourless, non-staining, transparent, viscous liquid that is inconspicuous in use. Maxforce® Quantum contains the bittering agent Bitrex against accidental ingestion.
Key Product Facts:
Active ingredients: Imidacloprid 0.03% w/w.
Controls a broad spectrum of ants (including sugar and protein-feeding ants).
HACCP certified.
HVL (Hygroscopic Viscous Liquid) Technology keeps the bait attractive to ants over time and provides highly effective ant control.
Eliminates ant infestations quickly.
Lasts for up to 3 months (between service visits).
Highly cost-effective.
Utilises an ultra-low dose of active ingredient and product.
Provides an inconspicuous treatment, so there's no mess.
Easy to apply in a minimum of time.
There's no need to spray.
Provides maximum effectiveness using minimal amount of active ingredient.
Application rates and delivery
Safety instructions:
Always read the product label before use.
Keep out of reach of children.
Do not use any rates other than those recommended in the product label.
Apply out of reach and sight of children and domestic animals.
Avoid contact with food, food utensils or surfaces where food is prepared or stored. Do not apply on food preparation or serving surfaces.
Wash hands and exposed part of the body with soap after work.
How to use:
For maximum effectiveness, place Maxforce® Quantum on or near ant trails.
Indoor use: Apply Maxforce® Quantum directly as spots in identified target areas and avoid cleaning or removing bait spots. Avoid application to excessively dusty, damp or greasy locations, and areas which are subject to washing. Do not apply to surfaces or areas that have recently been treated with other insecticides or contaminate the bait with other insecticides.
Outdoor use: Place Maxforce® Quantum preferably in an area protected from rain. If an exposed area has to be treated, apply if no rain is expected for the next 24 hours. In case of rain fall within 24 hours, retreat once. If nest entrances can be identified, inject preferably bait liquid directly into nest entrance.
Always replace cap after use.
Unwanted product can be removed by sponging with water.
Rate of Application:
Indoor use: For application on trails, apply 1 spot of 200 mg each per linear meter of ant trail.
Outdoor use: For nest treatment, inject 2 g of product directly into the nest entrance. For application on trails, apply 1 spot of 200 mg each per linear meter of ant trail.
It is recommended to monitor at day 3, 7, 14 and 28 after treatment. Repeat treatment when infestation is high.
Timing:
Apply at the first sign of an infestation.
Refer to the product label.

Insecticide
Temprid®
Suspension Concentrate
Temprid® gives you unsurpassed knockdown, residual control,...
See product

Insecticide
Maxforce® Forte
Ready to use Bait
Maxforce® Forte is a powerful gel bait to control...
See product

Insecticide
Deltacide®
Emulsifiable Concentrate
Deltacide® is a powerful oil-based spray insecticide for...
See product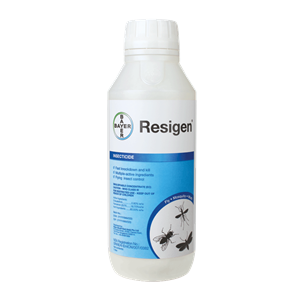 Insecticide
Resigen®
Emulsifiable Concentrate
Resigen® - the versatile space spray to control adult...
See product

Insecticide
Aqua K-Othrine®
Emulsion, Oil in Water
Aqua K-Othrine® is a pyrethroid-based concentrate with a...
See product

Termiticide
Agenda® 10 SC
Suspension Concentrate
Agenda® is the only termite solution which has gained...
See product

Termiticide
Premise® 200 SC
Suspension Concentrate
Premise® 200 SC is a non-repellent and systemic insecticide...
See product